I'm always on the search for the ultimate pigment or brush, it is a bit of an obsession and I'm pretty sure any artist will have a stash of various mediums that they have tucked away to try out.
Here I am going to go through everything I use for painting and I'm sure I might add to this at a later date but I don't have lots of special gadgets, just some preferences!
I've given links to the sites where I can but where I haven't, you will have to search for the items yourself (I am trying to only link to the brand's websites, not specific sites I use). I regularly get some art supplies (paint) from Jackson's Art but also Cass Art occasionally, whoever has the cheaper option (or the pigment I'm looking for as they're not always available everywhere).
The Paint
I don't tend to get stuck on one brand of anything religiously but for my watercolours, they are far and away predominantly made by Daniel Smith. I think that the biggest appeal for me is their selection of pigments which are made from gemstones, some of which actually have a bit of sparkle to them.
Their range of colours is also impressive quite aside from these gemstone pigments and you can buy a 'dot sheet' which is a way of testing out each pigment before you commit to buying a whole tube. I don't know any other company that provides this service.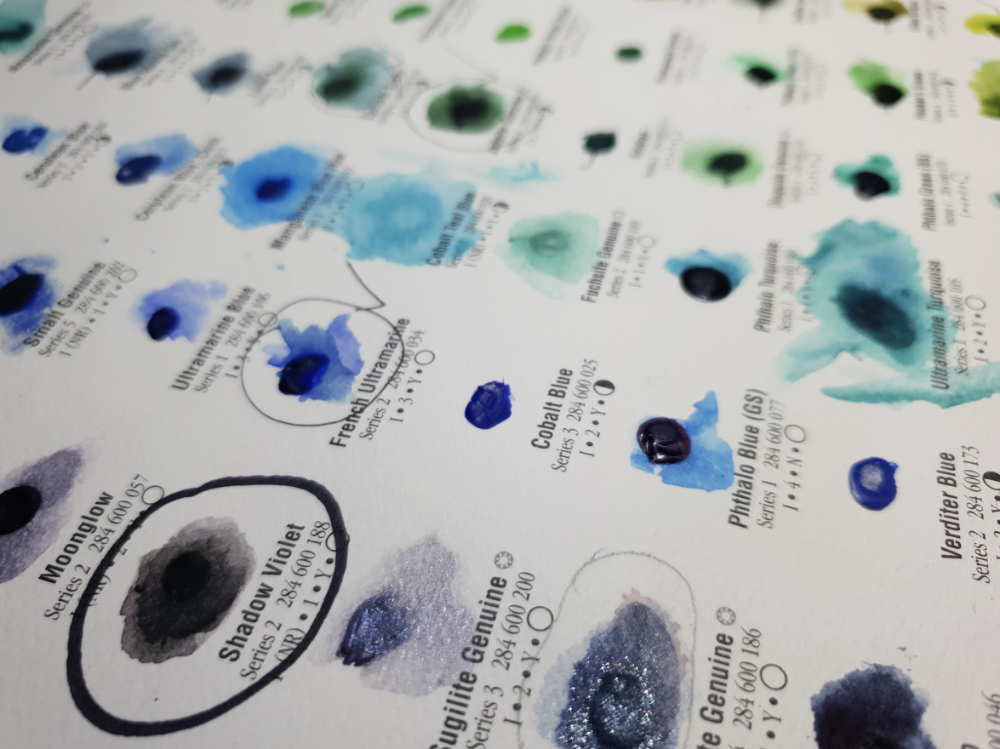 They are talked about as being very expensive but considering how far the pigment goes I don't think that they are, plus there are other brands which are considerably more costly than these.
A lot of their paints have a granulating quality to them which some would find irritating but for anyone wanting to create textures is just brilliant!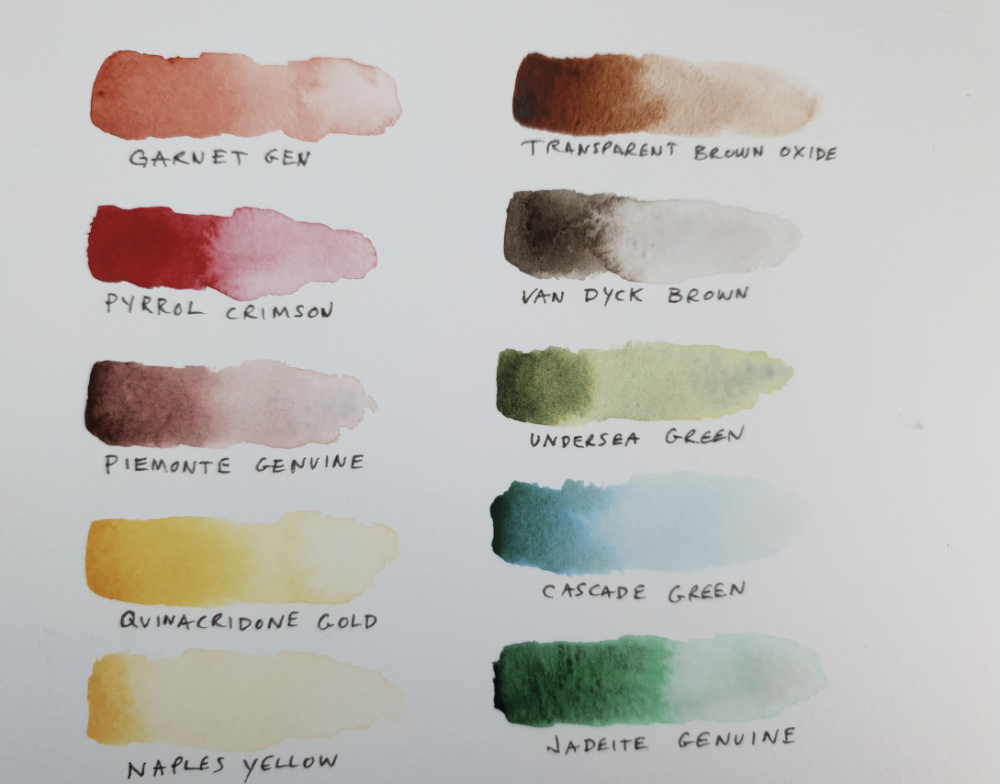 You can see how some of these dry with a lovely textured finish and others are non granulating (like the Quinacridone gold) which dry with a smoother finish.
Holbein do one of my favourite purples, Mineral Violet. Their pigments are really vivid and their quality is consistent. I own a few different colours in their paint that mix very well with the Daniel Smith. 
I use other Schmincke but my favourite is their super granulating colours which are GORGEOUS!
Winsor & Newton Designers Gouache
For little dabs of light in the eyes I usually will use gouache or white ink or an acrylic gouache. I have settled on W&N for the white gouache though as it is really gorgeous and buttery.
The Brushes
I have settled on using one brand (almost exclusively) now for my brushes and recently converted to synthetics. I had previously been nervous about trying synthetic, being convinced that sable was 'better' and yes, it holds the water/pigment slightly differently but I would say both have their advantages and disadvantages. The only animal hair brushes I use now are Rosemary & Co's badger hair 'Smooshing' brushes which are really really brilliant. The thing I've noticed with the synthetics is that they keep their shape a little better than the sable and that they release water a lot more keenly, so I have had to alter my technique slightly to compensate for this.
My absolute FAVOURITE brush from R&C is their Golden Synthetic series 344. Designer Rounds. They're really amazing for a point and I have been able to make very detailed paintings with their size 8 and it can still be used for larger wash areas too. Their regular Pointed Rounds (301.) are also nice but don't have that extra length that the Designer variety does. Also their rigger brushes are to die for! As well as all this they are incredibly reasonably priced.
I have a few non branded brushes for other things which I pick up if I find cheaply in art shops, ideal for 'ruining' for using masking fluid or other things which shorten the life of a brush pretty fast.
Paper
I am very lazy when it comes to stretching watercolour paper, so I avoid this by almost exclusively using illustration board. The big downside for this is a) it's more expensive and b) takes up more space when storing and c) more expensive to ship!
For non important watercolour endeavours I tend to go for Bockingford Watercolour paper in hot press, having used board for so long now I dislike working with paper this thin (300gsm!) as the pigment behaves differently. This could just be the brand too as they do all behave slightly differently (best thing is to try lots of them out to see which you like best!).
Strathmore 500 Illustration board – this is my FAVOURITE board but it is very expensive and I have not been able to get any for a couple of years now. Such a shame! So I now use Langton Prestige Watercolour Board. You can't use both sides of it like Strathmore but I still love it. The hot press is my favourite but their cold press is still pretty smooth as cold press goes.
Gloves
When I've done live streams of me painting, people often notice I've got some white gloves on and ask me why. These stop me from getting my fingerprints on my paper or board so I now make a habit of wearing them when I paint all the time. I buy cheap packs of cotton archival gloves and then cut the first two fingers and thumb off my painting hand to use them. They can be washed and reused as well.
I've seen that other artists don't wear gloves so it might just be that I am extra greasy (!) but if I don't, then I end up with odd bald patches where the paint doesn't adhere to the paper so well, so if you have discovered this then here is the answer to your problem!
Palette
I have been using ceramic palettes now for a while and they are my preferred choice for mixing paints as they don't stain and they're easy to clean. They're a little heavy but there is quite a good variety of choices out there now if you search for ceramic palette.
These are all my most regularly used tools, I hope that it has been helpful or interesting! If you have any requests for blog subjects then do not hesitate to drop an email my way or comment under this blog.